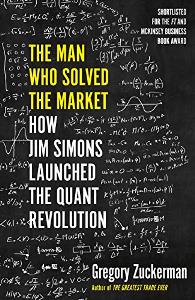 The pre-publication marketing engine for this one worked well enough that we downloaded the Kindle version on publication date; the 5th of November. We're pleased we did so as within the week we had inhaled The Man Who Solved the Market and will most certainly be consuming Zuckerman's 2010 book, The Greatest Trade Ever, and his 2014 book, The Frackers.
Jim Simmons is the co-founder of Renaissance Technologies, most well known for the Medallion Fund which has generated returns of 66% per annum since 1988, according to Zuckerman's calculations. Medallion has generated profits in excess of $100 billion (yes, billion) and has made Simmons a billionaire 23-times over (44% performance fee sharing rates helped get him there, the industry norm is 10 to 20%). Beyond learning about the quantitative methods developed and deployed by Renaissance and the people who did so, we found two aspects of this book particularly interesting: the first is its currency, not as in foreign exchange but as in relevance, as the Medallion Fund is still in operation today and the second is the absence of a cataclysmic event, the unpacking of which is often the sole purpose of a business book.
Zuckerman is a journalist at The Wall Street Journal and is a two-time winner of the Gerald Loeb Award. The Man Who Solved the Market has been short-listed for the Financial Times/McKinsey Business Book of the Year Award.