With slow growth undertones lingering post the medium-term budget speech, updates to both the annual consumer price index (CPI) data and the repurchase rate were eagerly anticipated this month. Annual CPI came out lower than expected at 3.7%, from 4.1% in September. A number that was last seen in February 2011. Transport CPI (red line) was the main factor contributing to the decline of CPI (blue line), fueled by the fall in the oil price. If you would like to further interrogate the CPI data, you can find the stats sa release here.

SA CPI AND TRANSPORT COMPONENT YEAR ON YEAR, LAST 10 YEARS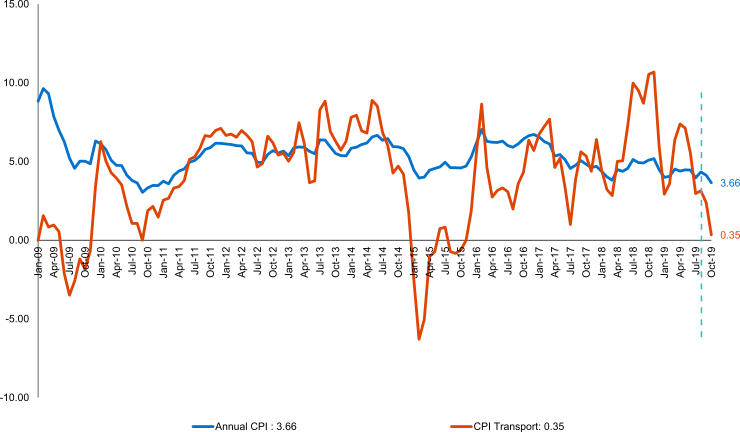 Data Source: Refinitiv Datastream

Yesterday, the South African Reserve Bank (SARB) surprised in its decision to hold rates at 6.5%. Post the CPI announcement, market sentiment intensified predicting a 0.25% cut in rates, this stacked with the Monetary Policy Committee (MPC) projection model for the third quarter. Citing unusually high uncertainty around inflation risks, the SARB decided to hold rates with a focus on, "anchoring inflation expectations." For a more detailed breakdown of the SARB's decision, you can find the official MPC statement here.
Looking forward, market sentiment anticipates a repurchase rate increase in the next year, albeit it unlikely in the next 3 months. A 12-month timeline leaves room for sentiment's direction to change, with many important events such as: the 2020 Budget speech and Moody's ratings review able to impact the markets tone. In the meantime, SA yields remain attractive to foreign investors. As the financial year revs into its last quarter, growth prospects for the new year will be under scrutiny by both local and global investors. Watch out for the next set of CPI and Repo Rate data, expected on the 22nd and 23rd January 2020.

SA FRA'S, IMPLIED INTEREST RATE CHANGES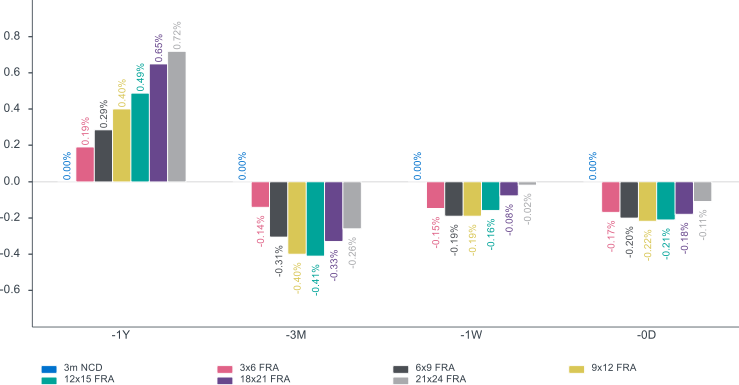 Data Source: Refinitiv Datastream