As the US confirmed the assassination of the Iranian Major General Qasem Soleimani, January 2nd 2020, oil prices immediately began to rise. Dollar denominated Brent Crude reflects the oil price moving up 4.27% in 16 hours. This is the third time an Iranian linked political event has caused an oil price jump in the last 12 months, further detail on the other events can be found here.
Brent Crude Oil Price, USD
To understand why Iranian political events can impact the price of oil, an understanding of the geography in the Middle East is useful, specifically the waterways. The Strait of Hormuz is a small but strategically important passage off the coast of Iran. This straight provides a route between the Persian Gulf and the Gulf of Oman, which thereafter leads into the Arabian sea and Indian ocean. This frequently used oil transport route is estimated to be responsible for the transportation of 25% of global oil supply. The passage is skirted by Iran's coast line and the bottle neck can, and has been used, to impact the transport of the world's oil. For this reason, among many others, any tension in the region has the potential to spike oil prices.
But why should South Africans be concerned about oil prices and Middle Eastern tension? One of the largest reasons why is due to the direct impact the price of oil has on its derivative product fuel (diesel and petrol) and fuel related companies, you can find an interesting discussion on this here. Looking at a rand denominated Brent Crude price chart alongside the SA diesel price, you can see how a change in the oil price impacts that of the diesel. In recent months, the cost of fuel has become even more significant with petrol and diesel run generators often keeping the lights on when unforeseen load shedding hits.
South African Diesel Price vs Oil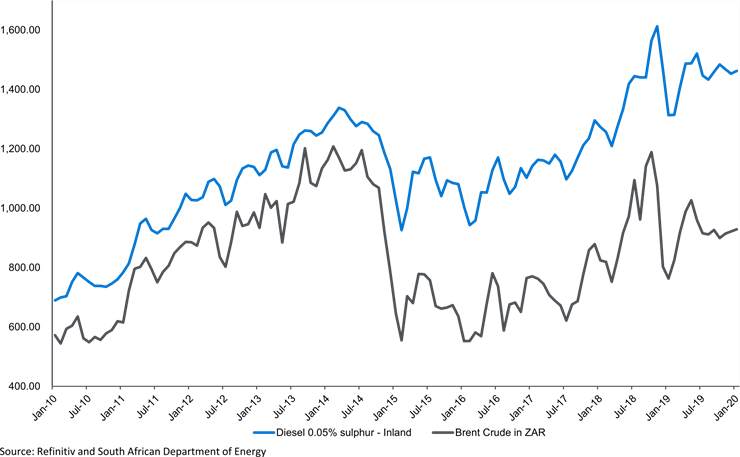 Secondary effects of the change in the oil price are also experienced through the different components of inflation. To do this, focus must be placed on the Consumer Price Index (CPI) transport component consisting of: purchase of vehicles, private transport fuel and other running costs and public transport. November 2019, latest data, boasts transport contributing -0.3% towards the 3.6% CPI data. Currently a negative number, continuing hikes in the price of oil could drive this number north, leading to potentially higher inflation which could harm consumers' pockets.