Finance Minister Tito Mboweni took to the stage for his second year running to deliver arguably the most important budget speech in the post-democratic South Africa. He brought his trusted sidekick, his "aloe ferox", and mentioned that, "it prefers less water and wins even when the odds seem against it" – might he be referring to our beloved country?
"Our economy has won before and it will win again"
– positive words from the minister, but what did the market think? The currency strengthened slightly against the US dollar shortly after Mboweni started speaking and the bond market followed suit with the 10-year bond yield falling by 13 basis points to 8.70% (bond yields move inversely to prices, so this fall represents a higher 10-year bond price). Both of these moves indicate that the budget was well received by the market.
How does this year's budget affect you as an individual?
You can breathe something of a sigh of relief. For a populous that is generally under pressure, the minister's announcement that there will be no major tax increases in order to support economic growth is a welcome development.
As an

individual

, you'll benefit from the widening of the

personal income tax

brackets through inflation-linked adjustments. This will result in a R2 billion relief for individual taxpayers.



Personal Income Tax

| | |
| --- | --- |
| Yearly Taxable Income | Rate of Tax |
| R1 – R205 900 | 18% of taxable income |
| R205 901 – R321 600 | R37 062 + 26% of taxable income above R205 900 |
| R321 601 – R445 100 | R67 144 + 31% of taxable income above R321 600 |
| R445 101 – R584 200 | R105 429 + 36% of taxable income above R445 100 |
| R584 201 – R744 800 | R155 505 + 39% of taxable income above R584 200 |
| R744 801 – R1 577 300 | R218 139 + 41% of taxable income above R744 800 |
| R1 577 301 and above | R559 464 + 45% of taxable income above R1 577 300 |
If you're a business owner, you'll be pleased to learn that Minister Mboweni has promised to review the corporate tax rate to encourage business growth. Corporate tax and dividend withholding tax remain the same at 28% and 20% respectively for now.
Importantly, there were no changes to the taxes applicable to retirement funds, trusts, donations and death.
With no changes to the retirement savings deductions, individual investors can invest up to 27.5% of the greater of taxable income or remuneration limited to a maximum of R350 000 per annum; this limit applies to the contribution of personal and employer contributions.
The maximum tax-free savings account contributions increased from R33 000 to R36 000 per annum, with the R500 000 lifetime contribution unchanged.
In order to support the struggling property market, the minister has adjusted transfer duty such that if you buy a property that costs less than R1 million, your purchase will not be subject to transfer duty. Previously, it was only properties that cost less than R900 000 that attracted no transfer duty.
If you drive a car or travel by taxi, you'll notice transport costs rising: the fuel levy was adjusted by inflation, going up by 25c per litre. Of this, 16c goes to the general fuel levy and the remaining 9c will go to the Road Accident Fund (RAF).

"Sin taxes"

were, as expected, increased. Your Friday night beer will now cost 8c more while your favourite bottle of wine will cost an extra 14c. Sparkling wine/champagne is now 61c more expensive and spirits increased by a whopping R2.89. For the smokers, a pack of 20 cigarettes is 74c higher.
Sin Taxes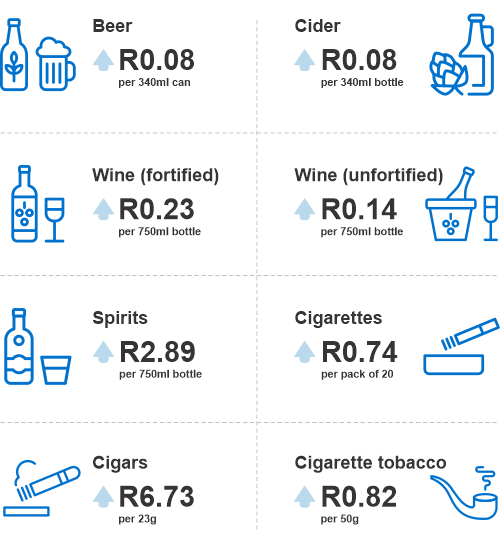 You will also be relieved to know that the much-predicted VAT increase did not happen.
And finally, if you're a public sector employee, you might be affected by a planned reduction in government spending of R261 billion over the next three years, which will include a cut of R160.2 billion to a bloated wage bill.
Keeping the lights on and the planes flying
The difficult duo of Eskom and South African Airways (SAA) has had an impact on all South Africans. Unsurprisingly, both state entities have been allocated more funding in an attempt to keep them going.
Time for decisive action
Not only was the budget meant to appease Moody's Ratings Agency, but it looked like an effort to placate the individual taxpayer too, given the much-needed income tax relief.
Against a backdrop of weak economic growth (expected at 0.9% in 2020 compared to the rest of sub-Saharan Africa at 3.5% and global growth of 3.3%), we welcome the budget and the minister's stance. It's time for decisive government action to get the economy back up off its knees.
The numbers in pictures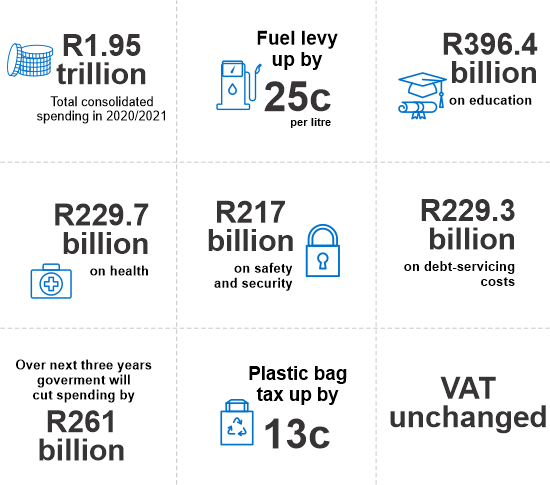 Finance Minister Tito Mboweni's 2020 National Budget is committed to better manage government expenditure – but can government deliver? More from Andrew here.


Key Budget Documents
View the webcast of the Budget Speech 2020
Download the complete 2020 Budget Speech (881kb)
Budget Highlights (166kb)
Tax Pocket Guide (1,063kb)
People`s Guide (2,970kb)