More than one-and-a-quarter million people from across the globe have now tested positive for Coronavirus. The United States, Italy and Spain between them account for 47% of the total, though the latter two appear to be slowing. Nine countries, recently including Turkey, have in excess of twenty-five thousand confirmed positive cases each; with the US registering an astounding three-hundred and thirty-five thousand. South Africa's positive case count is over one-and-a-half thousand with eleven people from around the country passing away. This coming week is an important one as it is being touted widely as potentially, and hopefully correctly, being peak-COVID-19 for both the US and South Africa. For additional details, please consult the Helpful Resources section toward the end of this blog post and note the addition of Google's mobility tracker to last week's set of resources.


Operational Update
We thank our staff for their hard work during the unprecedented circumstances that we have seen, and we thank you, our clients for your role in allowing us to move our business onto a fully remote operational basis. We are immensely proud to be able to report that we have been fully operational from the first day of the lockdown. We have deployed the necessary technology to ensure that, despite these remote working operations, productivity across our businesses has not been compromised. Our existing IT and technology plan, which has included Cloud migration, Microsoft Teams and other applications to allow for virtual meetings alongside our existing CRM software, has ensured that the transition to our Business Continuity Plan has been seamless. Importantly, our Advisors and front-line client interfacing staff remain accessible and contactable via telephone and email. All of these staff have the necessary resources, infrastructure and tools to continue servicing your needs no matter where they are located.


At the not insignificant risk of making this email even more grim than it already is, last week was dreadful for the South African sovereign. This was most clearly expressed in the currency which weakened by 6% against the US dollar, reaching an all-time low this morning of 19.34. Twenty to the dollar this week is entirely plausible; though the rand is trading under 19 as I write this. At the beginning of the week, the rand had been trading in line with its emerging market peers, all of which had weakened by 20-30% (granted: this is a very wide range) against the US dollar; except for the Argentinian peso which had nearly halved after a presidential election debacle last year and setting aside the Chinese yuan; a highly 'managed' currency. On the chart below of selected emerging market currencies, the dollar has strengthened by 33% against the rand; bettered only by its performance against the Brazilian real (+38%).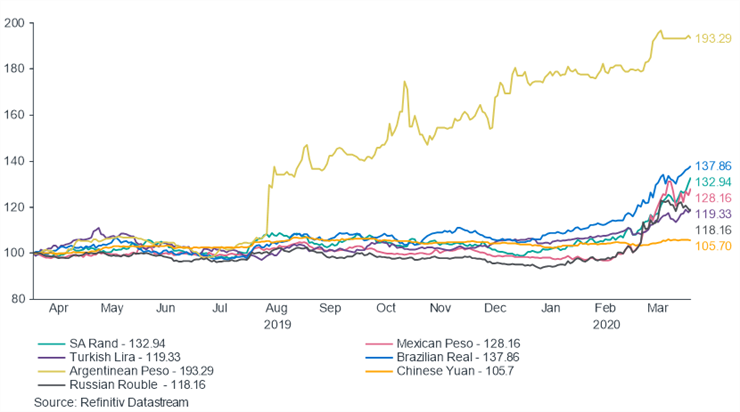 Much of the rand's weakness comes on the back of a 'triple downgrade' in the last ten days. First, and as was widely telegraphed, Moody's downgraded the sovereign to sub-investment grade. Worryingly, and somewhat unexpectedly, Moody's also placed South Africa on a negative outlook. A negative outlook is, essentially, early warning of potential downgrades further into junk territory to come. Next came Fitch's downgrade of the four largest South African banks: Standard Bank, FirstRand, Absa and Nedbank. Moody's did the same, adding Investec. The third, though likely not the last, downgrade occurred last Friday when when Fitch downgraded South Africa from BB+ to BB. Fitch also added a negative outlook to their rating.
Estimates of South Africa's forthcoming macro-economic data validate the rating agencies' decisions. The budget deficit is expected to balloon to 12% of GDP which itself is expected to decrease by 4-5% (the budget deficit naturally being partly reliant on the level of GDP). This pushes debt-to-GDP out to 90% from the estimate in the budget speech of mid-70's. Disturbingly, these will need to be funded in an environment in which the cost of government debt has increased from 8.5% in January to as high as 12% recently. A vicious circle indeed and one finding its home in intimations circulating prior to last week of South Africa needing to approach the International Monetary Fund or the World Bank, compounded this week of talk that South Africa has already approached the BRICS New Development Bank.
One, mild, reprieve is that South Africa's exclusion from the World Government Bond Index has been delayed until the end of April, implying that foreign flows that track this index won't be pulled for another few weeks yet. Which itself implies further rand weakness to come if the foreign exchange effects of these forthcoming outflows hasn't already been neutralized.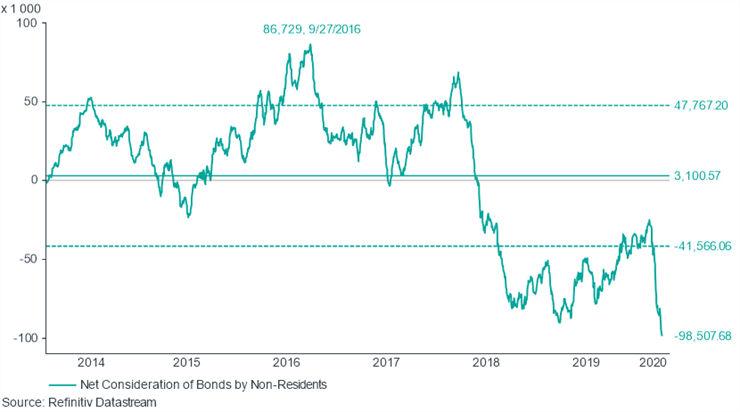 Lastly, potentially weakening the rand further given the implied narrowing of the carry trade, is the expectation that the South African Reserve Bank is set to lower interest rates by a further 0.75-1% before its regularly scheduled May Monetary Policy Committee Meeting. This would be in addition to expectations of a decrease at the May Meeting which would take the repurchase rate below 4% and the prime rate to 7.5%. As a practical illustration: a twenty-year, million rand mortgage financed at prime in January would have attracted monthly repayments of R9,650. It would now attract repayments of R8,055; a 17% decrease. The forthcoming release of the Bi-Annual Monetary Policy Review is also eagerly anticipated.
Taking the spotlight off South Africa briefly, Trump's bumbling efforts at brokering an oil supply deal between Saudi Arabia and Russia appeared to be gaining traction throughout the week. Sasol rallying magnificently as a result. However, over the weekend the deal seemed to falter. US initial jobless claims, having soared to the previous week's high of around 3 million, catapulted themselves to a new record high of 6 million; bringing total claims to 10 million across the last two weeks. Oil and jobless claims between them weakening the S&P 500 by about 3% as a result. The Queen's Speech, however, demonstrated the grace and courage required of world leaders at present, much of which has been exemplified by the manner in which our very own President has conducted himself during this global emergency.
We've updated our COVID-19 slide deck which you can find here.

Stay safe. Flatten the curve.


Market Data
| Asset Class | Last Week | Last Month | Last Year | Last 3 Years |
| --- | --- | --- | --- | --- |
| Local Cash | 0.13% | 0.57% | 7.21% | 7.30% |
| Local Bonds | 1.29% | -12.02% | -6.12% | 4.63% |
| Local Property | -0.79% | -40.96% | -51.25% | -24.21% |
| Local Equity | 4.30% | -14.73% | -20.09% | -2.10% |
| Global Property | -8.37% | -31.51% | -30.65% | -5.97% |
| Global Equity | -2.43% | -18.27% | -15.63% | 0.78% |
| USDZAR | 7.22% | 23.13% | 32.94% | 11.71% |

Helpful Resources

Please take the following into account:
Wherever possible, total return indices have been used. These include the effects of dividends, interest and coupon payments in addition to price movements. Please take data presented as, generally, inclusive of price and income effects.
Performance and other market data excludes the effect of income, capital gains and dividend withholding taxes as well as excluding advice, administration and asset management costs. Please take data presented as exclusive of tax and cost effects.
Data is based on the previous Friday's closing prices but as the situation is fluid the commentary may or may not extend beyond Friday's close. Additionally, Friday's close is intended to include American markets so this email can only be compiled and distributed on the following Monday.
Collective investment schemes and other similar products performance information is based on data provided by Morningstar, which is signed off the first week of each month. In general, we will refrain from covering this until sign-off is obtained.
NFB Asset Management publishes a monthly newsletter called The Rationalist. For as long as these weekly emails are being sent we have elected not to publish The Rationalist. Expect the monthly NFB AM schedule to resume once the lockdown is lifted.