Anticipation from ten or so days ago of an acceleration in positive COVID-19 test results in the United States has materialised. The US now has more than three-quarters of a million confirmed coronavirus infections and more than 40,000 deaths. It also has a fractious federal-state relationship to deal with, making decisive decision-making more difficult than it probably needs to be. Consider the difference between anti-lockdown protests in Denver this weekend and the increase of improper social distancing fines in New York to $1,000 as emblematic of this. A similar expectation of acceleration in South Africa's coronavirus experience hasn't yet manifested. Just over
3,000 confirmed
positives and 54 deaths is more likely explained by a lack of testing infrastructure rollout (currently running at around 5,000 tests a day), however, than it is of the efficacy of lockdown.
Denver v New York, whilst of more than passing interest, pales into insignificance when set against Trump v the World Health Organisation. During the week the US President
suspended
the United States' annual $450 million contribution, in membership fees and donations, to the WHO's $2.5 trillion budget, pending the outcome of an investigation that is expected to take 60 to 90 days.
Speaking of China and the US: both nations released key economic data last week, a single key data point from China and three from the United States. Chinese GDP from the first quarter of 2020, taken with as much salt as you care to take, was down 6.8% quarter-on-quarter. The first negative print since 1992 (see chart below). Despite an appropriate level of skepticism, this is still meaningful.
Chinese GDP, Q-o-Q, Quarterly, Annualised, CNY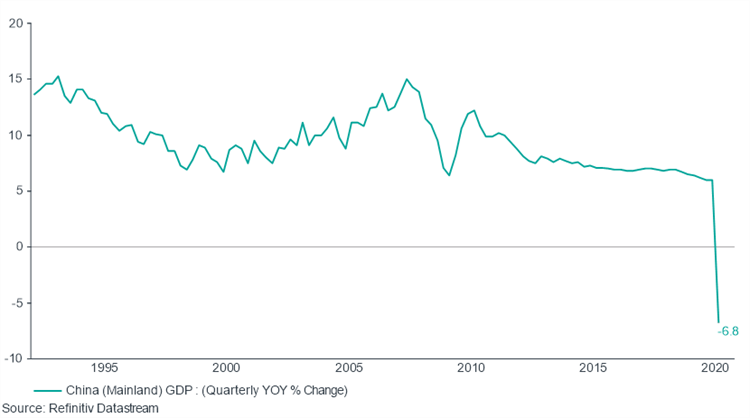 US initial jobless claims rose by another 5 million, taking the four-week total to 22 million. For context, peak 4-week initial jobless claims during the Global Financial Crisis totaled 21.5 million. Expectations are that the US unemployment rate will rise to 17% in the coming months. Together with the weekly initial jobless claims data, we also got the latest retail sales data (down 8.7% in March from a year ago; just as lockdowns were getting started so expect April's data to be similarly poor) and we also learnt that the $349 billion small business-targeted Paycheck Protection Program was close to running dry. At the not insignificant risk of a technicality, March represents a quarter-end so we can more than reasonably expect the rate of release of economic data to pick up significantly over the next two to three weeks.

When I last wrote to you, Trump had successfully brokered a deal between OPEC+ and the G20, more specifically between Saudi Arabia and Russia. Subsequent to which the oil price rallied magnificently. Toward the back-end of last week however, Friday in particular, oil prices unwound substantially. The oil price is now under $20 a barrel, which implies a hardening of the South African Reserve Bank's forecast of inflation in year being at 3.6%, it is currently at 4.6% .The SARB had an oil price of $45 a barrel and a ZARUSD rate of 17.80 in their forecast. The wider South African market now forecasts an additional 25 to 50 basis points in interest rate cuts at the next meeting of the Monetary Policy Committee which would take 2020's interest rate cuts to 250-275 basis points. In this regard, guaranteed endowment rates are relatively attractive at present.

Oil Price, Last 3-months, Daily, USD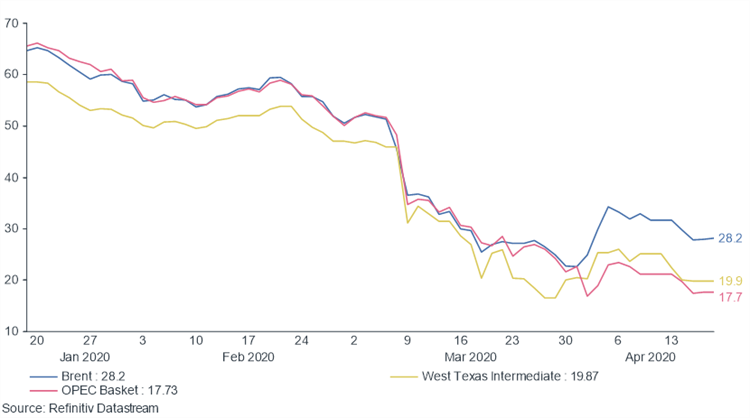 After weeks of circulating conjecture, South African Finance Minister Tito Mboweni acknowledged in open forum that South Africa was considering a $60 million World Bank facility. His admission also included reference to other "external" providers of capital. This is, on balance, a good thing as it removes an element of uncertainty from the market. Now all we need to know are the associated terms and conditions…
Finally, equity markets continue to rally hard. They're now, generally-speaking, up 25-30% in base currency terms from their recent March/April lows. Still down 15-20% from their January highs though. Click on this link to access NFB Asset Management's weekly chart book which includes a handful of slides on equity markets. In addition, we've commissioned NFB AM to conduct a more extensive peak-to-trough/trough-to-current analysis of equity markets from around the planet in both base currency and standardised US terms. By the time you read this, that body of work should be complete and you're welcome to request it by contacting us.
Stay safe. Stay positive. Flatten the curve.
---

Market Data
| Asset Class | Last Week | Last Month | Last Year | Last 3 Years |
| --- | --- | --- | --- | --- |
| Local Cash | 0,14% | 0,56% | 7,18% | 7,31% |
| Local Bonds | 0,00% | -2,82% | -6,63% | 4,20% |
| Local Property | 1,21% | 1,28% | -41,68% | -19,20% |
| Local Equity | 2,51% | 19,11% | -13,59% | 0,45% |
| Global Property | -3,28% | 8,04% | -17,74% | -2,48% |
| Global Equity | 2,24% | 13,54% | -5,67% | 4,98% |
| USDZAR | 5,53% | 13,78% | 35,09% | 12,33% |


Helpful
Resources
Please take the following into account:
Wherever possible, total return indices have been used. These include the effects of dividends, interest and coupon payments in addition to price movements. Please take data presented as, generally, inclusive of price and income effects.
Performance and other market data excludes the effect of income, capital gains and dividend withholding taxes as well as excluding advice, administration and asset management costs. Please take data presented as exclusive of tax and cost effects.
Data is based on the previous Friday's closing prices but as the situation is fluid the commentary may or may not extend beyond Friday's close. Additionally, Friday's close is intended to include American markets so this email can only be compiled and distributed on the following Monday.
Collective investment schemes and other similar products performance information is based on data provided by Morningstar, which is signed off the first week of each month. In general, we will refrain from covering this until sign-off is obtained.
NFB Asset Management publishes a monthly newsletter called The Rationalist. For as long as these weekly emails are being sent we have elected not to publish The Rationalist. Expect the monthly NFB AM schedule to resume once the lockdown is lifted.