In an effort to reduce pressure on the citizens of South Africa and provide support to the pressurized economy, the Monetary Policy Committee (MPC) decided to cut interest rates by an additional 0.50% in a scheduled meeting on Thursday 21 May 2020. This ties in with the market prediction that rates would be cut to around 3.76% according to Refinitiv Smart Estimate. You can find a copy of the May MPC statement here. This follows a series of cuts this year starting with 0.25% in January followed by 1.00% in March and another 1.00% April at an unscheduled meeting, taking rates from 6.50% at the start of the year to 3.75%.
Interest rate cuts have become a commonly used tool to support economies in the face of the COVID-19 crisis. When compared to the other emerging markets represented below, South Africa now has one of the lowest interest rates in emerging markets at 3.75%. The only country with a lower interest rate on this chart is Brazil. In a global economy where developed markets are offering negative to low interest rates, emerging markets become more attractive to the global investor in the search for yield, even though they pose higher risk. When accounting for emerging market risk, global investors would also consider the strength of their base currency to that of the emerging market. As the rand has significantly weaken recently, global investors would be buying a cheap currency therefore finding South Africa more attractive. This makes South Africa's interest rate position relative to other emerging markets something worth noting. Historically 3.75% is on the lower end of South African interest rates, you can find an interesting article on this here.
Emerging Market Policy Rates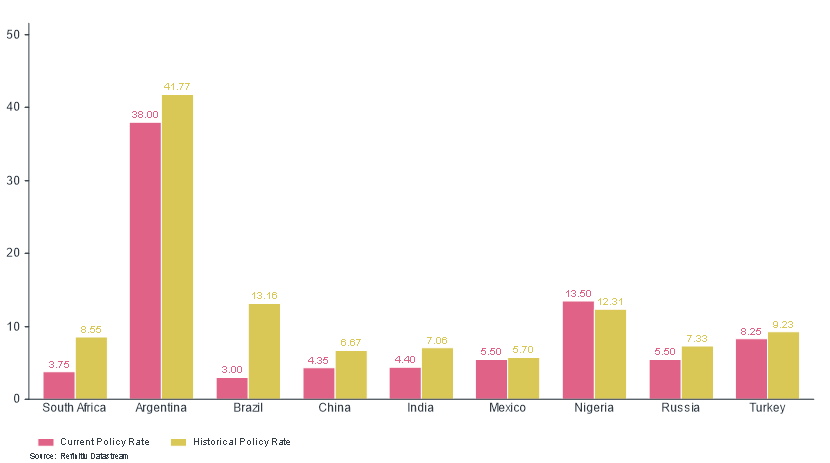 Another important comment from the MPC, is that they revised their expectation of South Africa's Gross Domestic Product (GDP) contraction from 6.1% to 7%. As the prediction of GDP weakens, it becomes ever more important that the government monitor future spending carefully with the South African economy remaining in a technical recession.