On Friday the 22nd of May, S&P Global Ratings (S&P) re-affirmed South Africa's debt ratings for long-term foreign and local currency at "BB-" and "BB" respectively and maintained a stable outlook. This means that South Africa's rating is still below investment grade after S&P previously lowered South Africa's credit rating further into non-investment grade on the 29th of April 2020. They forecast a contraction of GDP of 4.5%. A rather optimistic forecast when compared to other institutions. As an example, the South African Reserve Bank (SARB) forecast a contraction of 7% on the 22nd of May 2020.
"COVID-19 will weigh heavily on GDP growth given the strict domestic lockdown that has shut down much of the economy, the markedly weaker external demand outlook, and tighter credit conditions," S&P said.
S&P isn't the only rating agency that you should consider. There are three major rating agencies, Moody's, Fitch and S&P Global Ratings. All three rating agencies have South Africa as below investment grade.
SA Credit Ratings Scale Comparison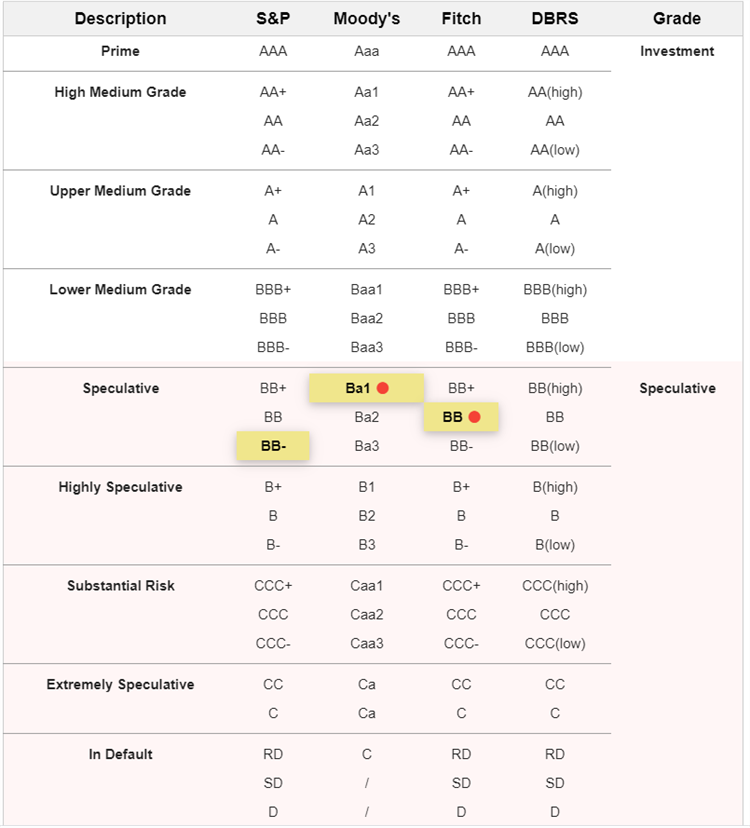 Source: http://www.worldgovernmentbonds.com/. 2020. South Africa Credit Rating.
In 2017, S&P first lowered South Africa's rating below investment grade. At the time it was estimated that it takes, on average, 7 years to get back to investment grade. More detail on this can be found here. However, the world has now been hit with a global pandemic. This will surely greatly increase the amount of time required to reach investment grade again due to the effects of the pandemic on employment, small businesses, GDP and more. What it means to be sub-investment grade with all three major rating agencies. As of the end of April, South Africa is no longer included in the World Government Bond Index. This means that every fund that tracks this index has to reconsider its exposure to South African bonds. The value of this forced sell could be as high as R140 billion. On top of this, everything else being equal, it should become more expensive for the South African Government to issue bonds as the yield the government has to offer in order to compensate investors for the increased risk is higher. But all things are not equal: the global search for yield continues and the SARB has been lowering interest rates which is currently capping the yield on long-term South African government debt.