The number of confirmed positive coronavirus cases worldwide now exceeds 7 million; with more than 2 million in the United States alone. Encouragingly, nearly 50% of these are considered to have recovered. South Africa will soon pass 50,000 such cases with a very similar recovery rate. Sadly, the 1,000th South African fatality is likely to be in the next day or two. Somewhat disturbingly, Brazil has elected to suspend voluntary disclosure of its coronavirus numbers. At last count, it had the world's second highest case count: nearly three-quarters of a million; roughly trebling in the last two weeks. As large parts of North America and Western Europe return to work, so too have risk assets: the rand was up 4.3% against the US dollar last week and global equity markets were up 4.54% , led by the S&P 500 which is now at its highest forward PE ratio since 2000/2001.


Developed Markets Relative, Last Year (USD)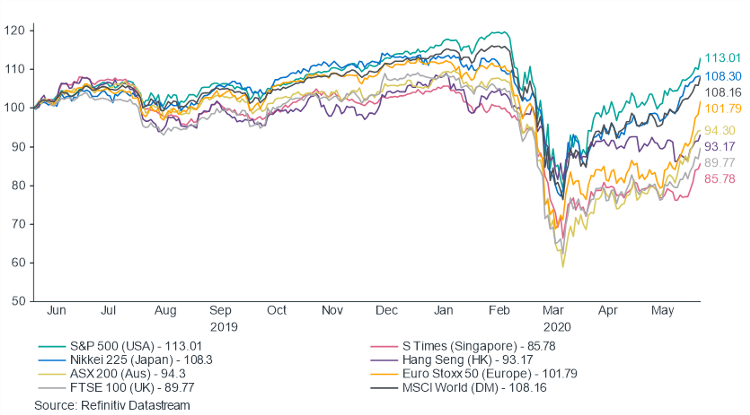 The European Central Bank (the ECB) led central bank and government efforts last week to provide economic support with an increase in their Pandemic Emergency Purchase Program (better known by the acronym PEPP) to €1.35 trillion. The ECB's latest blog detailing their response can be found here. The increase of €600 billion announced last week was €100 billion more than the market was expecting which, naturally enough, was well received. The forgotten political football of Brexit negotiations appears to have even more firmly taken the backseat, leaving the United Kingdom excluded from the European Union's recovery plans. Japanese Prime Minister Shinzo Abe announced a ¥117 trillion package of stimulus measures including financing for small business owners, rent subsidization and health care assistance. This following an equally-sized package of measures doled out last month by the finance ministry and a set of asset purchases and yield curve control measures announced by the Bank of Japan. Bloomberg offers an interesting insight into these latest measures here. Locally, South African Finance Minister Tito Mboweni announces an interim budget on the 24th of June which will reprioritise spending to accommodate President Cyril Ramaphosa's coronavirus-related stimulus measures announced a few weeks ago. Worth commenting on is the nature of these stimulus packages which can be headline-grabbing. Care must be taken to exclude elements which are financed and/or repriorised from other areas as these aren't truly immediate 'spends' though they do dramatically increase a nations' leverage and worsen a nations' budget deficit is. For example, South Africa's R500 billion stimulus program includes R200 billion of government-guaranteed funding through the countries' banks.
Also last week, OPEC announced the biggest cut in oil supply in history amid COVID-19 demand pressure. The announcements resulted in a bump in oil prices, a resurgence in US-located shale producers but prompted a downturn in inflation projections in areas such as the eurozone. The oil production cuts were, importantly, committed to by producers including Russia amid concerns of another oil price collapse such as the one in April 2020. The video conference resulted in a production knock equivalent to 10% of "normal times", according to Stanley Reed from The New York Times.


Oil Price, Last Year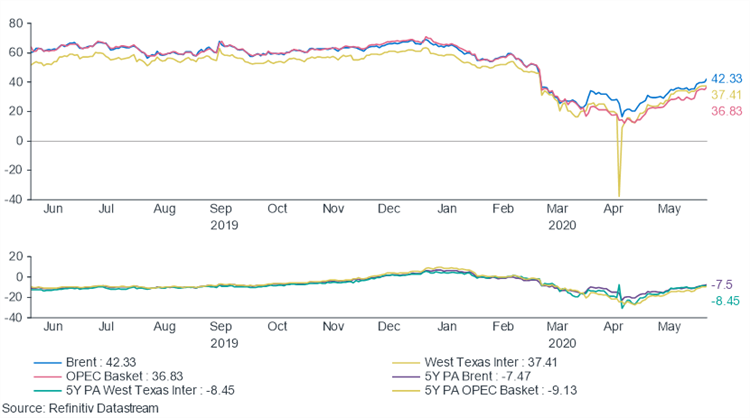 On Tuesday and Wednesday this week the Open Market Policy Committee of the Federal Reserve Bank (the Fed, the US equivalent of the South African Reserve Bank's Monetary Policy Committee) is expected to meet. Whilst the market consensus anticipates no changes to interest rates, as the world largest economy the Fed's stance on other further stimulation activity will be of importance. Last week's US unemployment data was an embarrassment to economists who had forecast an increase in the number of unemployed of 7.5 million but were faced with a decrease of 2.5 million which saw the May 2020 unemployment rate edge down to 13.3% from 14.7%. Those same economists were expecting an increase in the unemployment rate to 19%. Despite the miss, compared to other developed markets on the below chart, the United States' current unemployment rate is significantly higher, though these are aggregate numbers and are subject to estimation errors and future revisions which we fully expect to manifest given the fluidity of current conditions; mostly likely by other developed nations revising their unemployment numbers upwards. We will only see this a fairly meaningful amount of time after the crisis has passed.

Developed Markets Unemployment Rate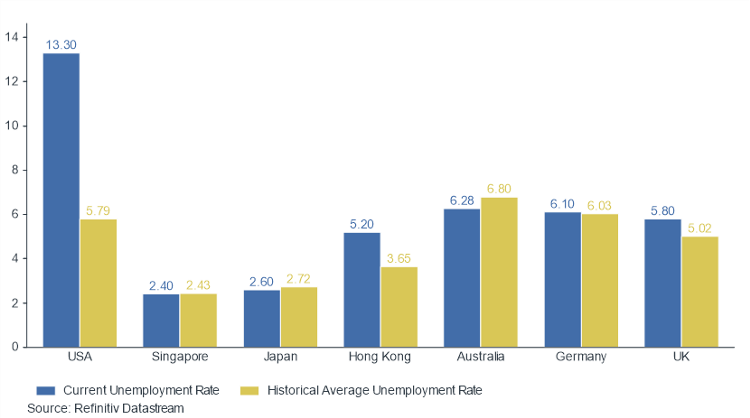 On a positive note, local and global airline companies are starting to operate again. Moneyweb detailed the slow start to recovery of South African airlines here, starting with domestic non-leisure flights permitted during Level 3. America has also seen a dramatic increase in local flights and further routes are expected to be opened in August as travel restrictions slowly ease. Two flights to China were approved after China threaten to ground American airlines as tension rise between the two nations. Cruise ship operators, though, are still in some significant strife with Royal Carrbiean, Norwegian and Carnival Cruises all still down around 80% since the crisis began. This long-form article from the Financial Times is well worth spending twenty minutes on.
As always, I encourage you to make use of the resources highlighted below and to access our weekly pack of market charts here.
Stay safe. Stay positive.
---

Market Data

| | | | | |
| --- | --- | --- | --- | --- |
| Asset Class | Last Week | Last Month | Last Year | Last 3 Years |
| Local Cash | 0.11% | 0.49% | 7.00% | 7.21% |
| Local Bonds | -0.16% | 4.41% | 6.79% | 7.74% |
| Local Property | 19.76% | 22.61% | -35.33% | -17.22% |
| Local Equity | 8.40% | 11.28% | -0.63% | 4.54% |
| Global Property | 11.24% | 15.60% | -9.03% | 1.80% |
| Global Equity | 5.84% | 12.58% | 9.71% | 7.37% |
| USDZAR | -4.34% | -8.27% | 13.17% | 9.91% |
Helpful Resources
Please take the following into account:
Wherever possible, total return indices have been used. These include the effects of dividends, interest and coupon payments in addition to price movements. Please take data presented as, generally, inclusive of price and income effects.
Performance and other market data excludes the effect of income, capital gains and dividend withholding taxes as well as excluding advice, administration and asset management costs. Please take data presented as exclusive of tax and cost effects.
Data is based on the previous Friday's closing prices but as the situation is fluid the market commentary may or may not extend beyond Friday's close. Other data, links, estimates, etc referred to are correct as at the time of writing.
Collective investment schemes and other similar products performance information is based on data provided by Morningstar, which is signed off the first week of each month. In general, we will refrain from covering this until sign-off is obtained.
NFB Asset Management publishes a monthly newsletter called The Rationalist. For as long as these weekly emails are being sent we have elected not to publish The Rationalist. Expect the monthly NFB AM schedule to resume once the lockdown is lifted.
The previously used Refinitiv data code for Local Bonds (SAFRALL) has been discontinued, therefore a new code (ASAGVAL) has been used for calculations moving forward which is subject to revision in the future.