On Friday the 26th of June 2020, the UK property giant, Intu Properties, finally succumbed to its debt problems and filed for administration. The turmoil for the highly geared company was sparked a few years ago by a cocktail of events such as Brexit uncertainties, the UK's weakened consumer confidence and structural shifts in retail towards online shopping.

Intu, Share Price, ZAR, Five Year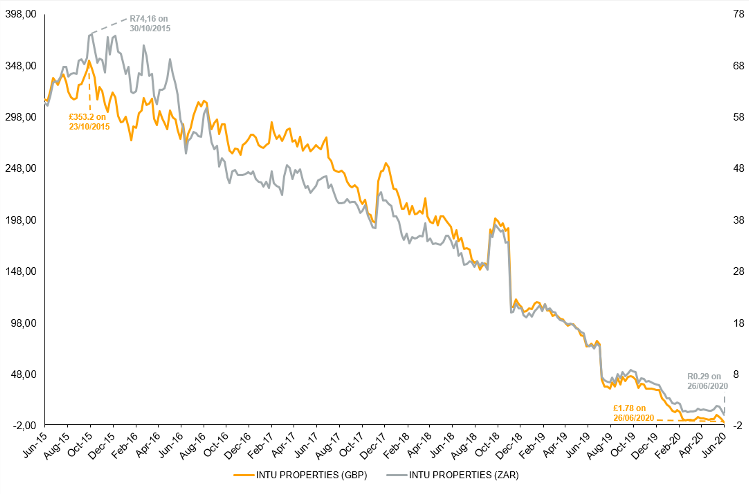 The lockdowns imposed from the Covid-19 outbreak were the final nail into Intu's distressed balance sheet problems, as its rental collections for the first quarter of 2020 more than halved. In one of their news updates, Intu confirmed that most of the companies not honoring their lease contracts were "large, well-capitalised brands who have the ability to pay but have chosen not to". Prior to the pandemic, Intu had sold some of its assets in an attempt to ease some of its cash flow pressure.
Intu therefore elected to apply for administration as it failed to reach consensus with its creditors regarding possible extended credit terms. In the interest of its stakeholders, Intu have applied for the joint appointment of James Robert Tucker, Michael Robert Pink and David John Pike from KPMG as their administrators. As the application is a 5-sanctioned process, the endorsement of the application is yet to be confirmed.
Trading of the dual-listed company was suspended on both the London Stock Exchange (LSE) and the Johannesburg Stock Exchange (JSE) after the share prices plummeted by 55% and 72% respectively on Friday.

Intu, Share Price, ZAR, Last Year
For South Africans, the announcement comes at a time when many investors and fund managers seek alternative risk investments to SA Inc stocks (due to SA's low growth prospects) and local property stocks (due to low valuations).
This costly exercise does not imply a "quick fix" to Intu's problems. Both Intu's board and the administrators still need to consider the best course of action from the limited options available under the company's insolvency plans. Intu have advised that "the underlying group operating companies remain unaffected and its shopping centers continue to trade".
NFB Asset Management has 0% exposure to Intu, either directly through its fund holdings or indirectly through its house view managers.