The Quest for Yield
Income Model Portfolio Trades
The outbreak of the pandemic had dire effects on global markets and economies, curbing investor returns across all asset classes. Locally, this outbreak coincided with the much-anticipated downgrade on the country's sovereign credit rating by Moody's to junk status, and consequently resulted in the exclusion of SA from the World Government Bond Index (WGBI). A combination of Covid effects on the country's already depressed economy, significant foreign investor outflows from our bond market and heightened fiscal deficit lead to an increase in South Africa's yield curve.

SA Yield Curve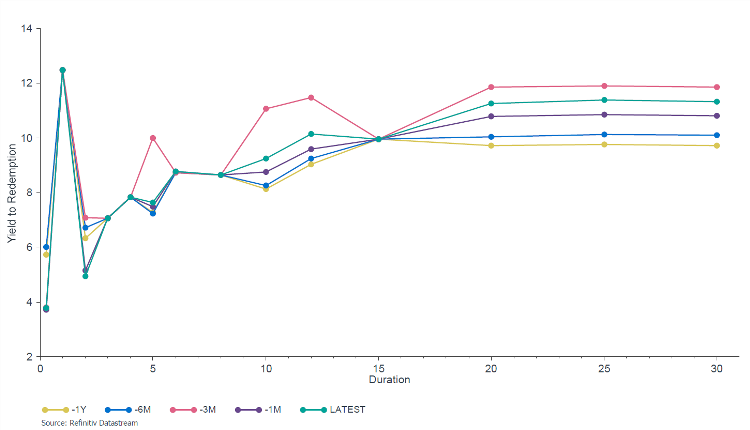 This lead our Investment Committee (IC) to reassess the income prospects from holdings in the Income Model Portfolio. As a consequence of significant steepness along the long end of the yield curve and a 2-year dividend leave application from SA's stressed property companies, a decision was taken by our IC to exit the positions from the Ashburton Stable Income Fund and the Sesfikile BCI Property Fund. To take advantage of the weakness of the longer dated bonds, the Ninety One Gilt Fund was introduced in the Model Portfolio.
Bearing in mind duration risks, only 20% of the Model Portfolio would be held in Ninety One's Gilt Fund whilst the remainder of assets were rebalanced and equally split amongst the four existing Fixed Income managers. As a result of these trades, the holding fees on the Model Portfolio reduced by 0.02% to a new fee of 0.56% and the local property and equity exposures were reduced in favour of both local and global bonds.
Local




Global



Cash

Bonds

Property

Equity

Cash

Bonds
Prior to trades
34%
55%
4%
1%
1%
5%
Post trades
34%
57%
2%
0%
1%
6%
Don't forget to share this post!
Back to top