The fees you pay are important. Especially in the current lower return environment where fees make up a larger percentage of returns. Total Investment Cost (TIC) is a very useful tool that enables investors to have as complete as possible an understanding of the actual costs incurred when investing in collective investment schemes (
CIS's
,
unit trusts
). TIC is composed of the Total Expense Ratio (TER) and Transaction Costs (TC). TER indicates all fees and charges involved in managing a fund and is required to be displayed on minimum disclosure documents (MDD's). NFB's latest set of MDD's can be found
here
. TC is made up of the costs incurred while paying for all the underlying assets in a CIS, as well as the taxes and levies involved. TIC's, TER's and TC's are expressed as a percentage of the CIS's assets under management.
The average TIC within the ASISA: SA – MA - High Equity sector was 1.80%, 0.02% higher than the last quarter of 2019. Relative to this fee, the NFB Ci Managed Fund is cheaper by 0.87% whilst the NFB Ci Managed Growth Fund of Funds' is cheaper by 0.43%.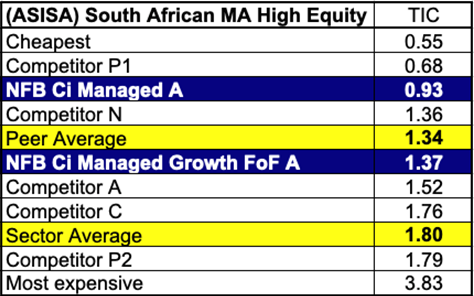 Peer averages in both sectors are the averages of the respective groups of CIS's on the NFB Asset Management Onshore House View.