Coming out of the gloom of COVID lockdown, it's wonderful to see trees bursting into blossom along our suburban roads. Along with this new season are numerous "For Sale" signs to be seen dotting the pavements. Is this an opportunity for the investor to take advantage of an oversupply of houses and cheaper finance?
An estate agent friend recently told me how the lockdown had impacted her earning capacity. Very few new properties came up for sale during the initial lockdown. With the lockdown extension, calls started coming in from people wanting to sell their houses, many no longer able to afford their bonds. Some home owners had reassessed their needs and decided to downscale.
The property market is now flooded with houses for sale.
When there is an oversupply of houses, buyers have the advantage of a wide range of choice. House prices have fallen by a whopping 25% in the price range over R4 million. Houses in areas you might not have considered before are now within your reach.
It is a good time to buy.
But, note these numbers
As a financial adviser I have often found that saving is compromised when people buy too much house and too much car. When interest rates are low, it's easy to fall into this trap. The recent interest rate cuts have made it more affordable to buy a house above your paygrade. In 2019 you would have had to earn approximately R29 000 to afford a home loan of R1 million. Now you need to earn only about R24 000.
It is important to remember that interest rates are at 50-year lows after the prime lending rate dropped from 9.75% to 7% this year. While low interest rates were predicted by economists to continue for the next 18 months or so, a Reuters poll is now expecting a rise in November. When interest rates increase again you may not be able to afford your bond payments.
Another consideration is whether to fix your interest rate at these low levels. Banks generally give you a fixed rate at between one and 2.5% higher than the interest rate you would have qualified for. Initial bond repayments are primarily interest and very little capital. At a fixed interest rate higher than the variable interest rate, you will be paying more interest than needed. While you might feel safer knowing that your monthly bond repayment is stable, you're paying more interest than capital. Even if the interest rate were to increase it would take a few years to catch up to a fixed rate.
A R1 million bond at an interest rate of 7% over 20 years can cost you almost R900 000 in interest!
When budgeting to determine if you can afford the bond on a new home, you can add an additional amount of five to 10% more than the repayment amount. Paying extra into your bond immediately starts reducing the interest payable.
Here's an example. A bond of R1 million at an interest rate of 7% over 240 months has a monthly repayment of approximately R7 750. By paying just R250 more per month, you reduce your bond term by 15 months, saving you about R64 000 in interest. Increase the bond repayment by 10% to R8 500, and you reduce your repayment term by 40 months and save almost R167 000 in interest.

Outstanding balance on a home loan: Projected versus Original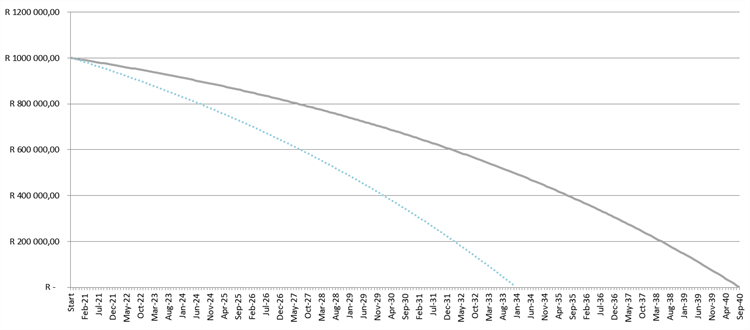 Image source: Stealthy Wealth

Please remember that interest rates will more than likely go up in future. Work on the worst case scenario and pay that difference into your bond when the rates are low. For example, if the interest rate you are budgeting for is 10%, your bond repayment will be R9 650. Pay that amount from the start and you will cut years and a whole lot of interest off your bond. Assuming the interest rate stays at 7%, that is R321 750 saved in interest and 80 months of bond repayments.
Avoid falling into the FOR SALE trap by doing your homework on your budget, negotiating the price of the house and shopping around for a competitive interest rate. Do not buy more house than you can comfortably afford. While this is the biggest investment you will make, it's a long term commitment and your money is tied up in bricks and mortar. You still need to diversify your investments and ensure you have access to funds for emergencies. Trust me, when you own your home, there are always emergencies.
Eight checks to see if your new home is affordable
Punch the numbers. How much do your earn? What are all your monthly expenses?Examine your bank statements over the last three months and account for every cent. How much remains every month?

Add in the extras such as rates and taxes, maintenance, security, levies, building insurance, moving costs, municipality deposits, transfer costs.

Don't be tempted to buy a house you can only just afford. The general rule is to buy a house where the bond cost is no more than 30% of your after tax income. Can you afford to spend that amount of money in your current lifestyle?

Budget on an interest rate at a higher level than the current rates.

Check your credit status and ensure that your financial affairs are in order.

Be prepared: bank statements, a budget and proof of income should be readily accessible.

Apply to more than one bank for a home loan and negotiate the rate. Loyalty to your bank could cost you up to 1% more in interest costs according to bond originators, Ooba.

Apply for a pre-approved home loan through the banks or a bond originator. This will ensure that you do not overextend yourself when you fall in love with too much house.
Remember that your home is meant to be a haven, not a source of stress. Straining your budget for a better home or an investment property is simply not a wise move.