Last week the Monetary Policy Committee of the South African Reserve Bank elected to leave the repurchase rate unchanged at 3.5% per annum. Two of the five voting Members of the Committee preferred a cut of 25 basis points. At the beginning of 2021, the market was anticipating two cuts of 25 basis points during the year. That view has changed, particularly given that the Reserve Bank's Quarterly Projection Model is now forecasting two increases of 25 basis points each. The market now expects interest rates in South Africa to remain where they are for the balance of the year. The same decision to leave interest rates unchanged was reached by the monetary policy committees of the European Central Bank and the Bank of Japan last week, both of whom have central rates under 0% per annum. This week we expect the US Federal Reserve to leave the Fed Funds rate unchanged as well.
SA long-term repo rate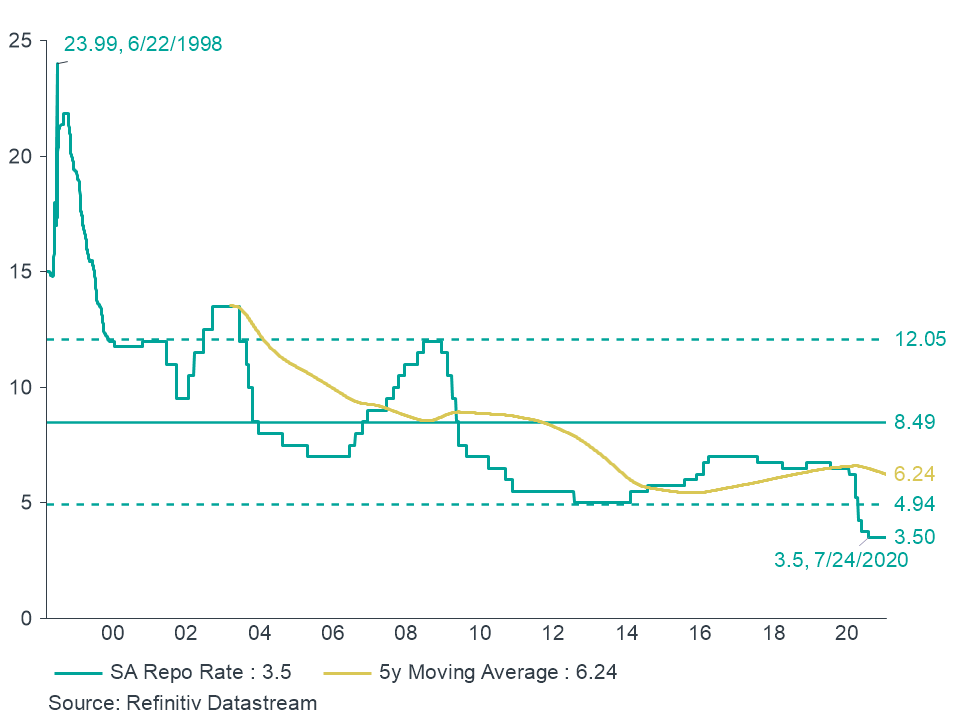 This comes as the world's total positive coronavirus case count reaches 100 million, with cumulative deaths now well beyond 2 million and more than 25 million people still considered as active cases. The UK is likely to extend its current lockdown, France is considering a third lockdown, parts of China are once again being placed into confinement, joined by the Kowloon district in Hong Kong, and newly inaugurated President Joe Biden has instituted a mask policy on Federal property. Besides seventeen Executive Orders signed off on his first day in office, Biden has the unenviable task of guiding a third coronavirus relief package through Congress, this time in the amount of $1.9 trillion. At the time we last wrote to you, this appeared almost entirely certain. Markets now are having to contend with a potentially smaller package of measures and likely greater degrees of political pushback which may ultimately see stimulus delivered later than originally anticipated.
Locally, the restructure of Land Bank's debt has become of more than passing interest' specifically with regards to the 13 January SENS announcement. Our Asset Management team is working on exposures of the local asset management industry to Land Bank debt, particularly for money market funds; none of which thus far have exposures greater than 3-5% and only in their risk-seeking mandates. What we wish to comment on this morning is the apparent change in government's attitude to guaranteeing the debt of state-owned enterprises. This has been a long-standing protocol in South African debt markets but after eight or nine months of Land Bank negotiations, National Treasury has chosen to step back from providing guarantees to any new Land Bank debt. State-owned enterprises will still need funding however and it appears that this is more likely to come from the State in the form of equity capital injections which ranks further down the capital structure; i.e. is at more risk. The key question then is: has the South African government and its debt become riskier because it is now more likely to hold equity stakes in SOE's or less risky because it no longer provides guarantees to such entities?
Also needing to be contended with by South African financial markets participants in the last week has been the decision by Redefine's board to withhold payment of their next dividend. This strategy is likely to be followed by more South African property companies who are compelled to pay out 75% of their income as dividends in order to retain their REIT tax status but may now chose not to do so via their boards in order to conserve capital and/or pay down debt. It's not necessarily a strategy with which we fundamentally disagree but it does mean that investors who looked to property companies for their yield may not be able to extract that yield for the next twelve to eighteen months, perhaps even longer.
For listeners of the Freakonomics podcast, you'll recognise the following sign-off from host Stephen Dubner which we'd like to repeat here: take care of yourself and, if you can, take care of someone else too. As always, our weekly chart book is available here.
---

Market Data
| | | | | |
| --- | --- | --- | --- | --- |
| Asset Class | Last Week | Last Month | Last Year | Last 3 Years |
| Local Cash | 0,07% | 0,31% | 5,19% | 6,56% |
| Local Bonds | 1,12% | 0,49% | 8,49% | 8,21% |
| Local Property | -1,20% | -3,83% | -35,45% | -19,53% |
| Local Equities | 0,72% | 9,21% | 13,57% | 4,79% |
| Global Property | 0,67% | 2,59% | -10,12% | 2,73% |
| Global Equity | 1,66% | 5,33% | 17,99% | 9,72% |
| USDZAR | -1,02% | 2,85% | 5,09% | 7,56% |

Helpful Resources

Please take the following into account:
Wherever possible, total return indices have been used. These include the effects of dividends, interest and coupon payments in addition to price movements. Please take data presented as, generally, inclusive of price and income effects.
Performance and other market data excludes the effect of income, capital gains and dividend withholding taxes as well as excluding advice, administration and asset management costs. Please take data presented as exclusive of tax and cost effects.
Data is based on the previous Friday's closing prices but as the situation is fluid the market commentary may or may not extend beyond Friday's close. Other data, links, estimates, etc referred to are correct as at the time of writing.
Collective investment schemes and other similar products performance information is based on data provided by Morningstar, which is signed off the first week of each month. In general, we will refrain from covering this until sign-off is obtained.
NFB Asset Management publishes a monthly newsletter called The Rationalist. For as long as these weekly emails are being sent we have elected not to publish The Rationalist. Expect the monthly NFB AM schedule to resume once the lockdown is lifted.
The previously used Refinitiv data code for Local Bonds (SAFRALL) has been discontinued, therefore a new code (ASAGVAL) has been used for calculations moving forward which is subject to revision in the future.