South Africa is a net importer of oil, this means we import more than we export. We pay for our oil supply by converting our rands into dollars, therefore any change in the price of oil and/or change in the exchange rate will impact local prices of oil. The rand has recently experienced some strength in 2021, falling below R14.50 to the dollar in February. There was hope that this strength would create a buffer to the rising oil price for South Africa, however, as seen in the below chart, the price of oil rose more than the rand strengthened, thus outweighing the impact of a stronger rand. As a result, the latest oil imported landed at a higher cost, this cost will flow through into all resultant oil products such as fuel. We have already felt the first part of the fuel price increase at the beginning of March and expect to feel it further in April.
1 Year Percentage Change, over the last Year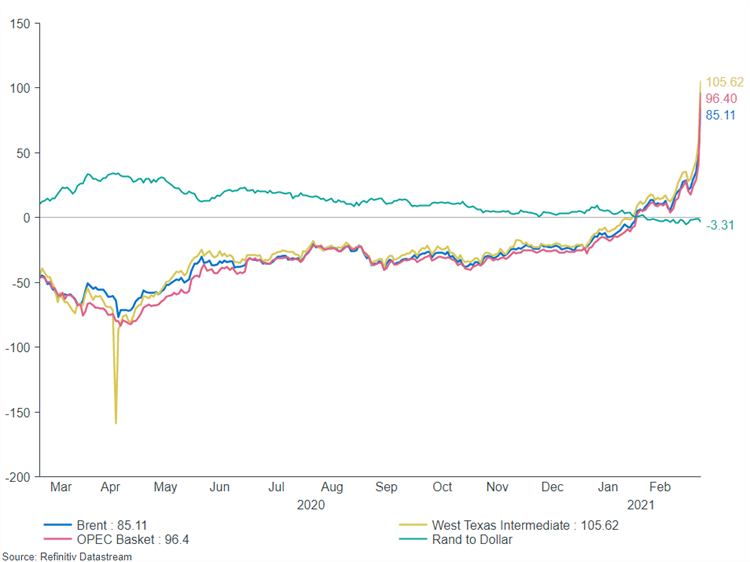 To compound this cost impact, in the Budget speech, made by Finance Minister Tito Mboweni of 24 February 2021, the general fuel levy increased by 15c per litre while the road accident levy increased by 11c per litre. The resultant fuel prices are as per the below table.

Summary of Fuel Prices
Fuel (Inland)

February officia

l
March Official
95 Petrol
R15.67
R16.32 (R15.84 March 2020)
93 Petrol
R15.50
R16.15 (R15.52)
0.05% Diesel (wholesale)
R13.58
R14.12 (R14.03)
0.005% Diesel (wholesale)
R13.61
R14.17 (R14.08)
Illuminating Paraffin
R7.99
R8.46 (R8.56)
Source: Businesstech 2 March 2021

Inflation is another factor impacting consumers' pockets. Looking at selected components of CPI over the last year, transport CPI (which includes the purchase of vehicles, private transport operation and public transport operation) has been low, with the last reading at -0.43%. Over the last year, the fuel component of private transport operation is down 8.6% from January 2020. It has been one of the components negatively contributing towards total CPI, which is hovering around the lower Reserve Bank target. This is providing some relief for consumers.
Whilst the latest inflation detail remains around the lower end of the target, it is important to remember that CPI is based on historical data. The more recent increase in oil price, which has not been entirely offset by rand strength, combined with increased taxes means that consumers can expect to experience higher rates of inflation in the future.