The global economy and fast pace of technology has opened a broad virtual window to the retail shopper. There is not much you can't get these days and, with online shopping booming and the efficient delivery of these goods improving, South African consumers are no longer limited to a local or in-store product range.
The same should apply for the South African investor. Why be limited to only local companies and the local economy when you can buy just about any Asset Class, Company, Index, Property or Bond fund from around the world?
Most South African investors earn Rands, so we need to consider the exchange rate when ordering goods from offshore; to do this, we find ourselves doing a Rand / Dollar conversion to calculate whether a particular Amazon item, for example, is within our budgets.
It is no different for the local investor where investment returns are often reported back in Rands, as these results are dependent on the exchange rate.
Too often, the exchange rate is the investor's main focus. This emphasis is the reason why most South African investors look offshore – they believe that the Rand will continue to lose value against the developed world currencies. This is a reasonable assumption: over the longer term, the Rand has steadily lost value against developed world currencies.
The difference between our local economy and the developed world economies - in inflation rates, political stability and better productivity - means that it is likely South Africa's currency will continue to depreciate over time.
It's interesting to note that the Rand / Dollar exchange rate today at R14.35 to the Dollar is at the same level it was five years ago. In the past five years, this exchange rate has been as low as R11.50 and as high as R19.00 to the Dollar. Over the past 10 years, however, it has depreciated by 7.88% p.a. It was R6.70/$ 10 years ago. And there was a time 20 years ago (in 2001) when the exchange rate was R13.00/$.
What the investor may forget at times is the fact that there is a broader spectrum of investment choices offshore; you have access to companies that can give you diversification and growth outside South Africa's borders. Offshore investment opportunities give you access to global markets and consumers with different spend patterns. They offer dividends in a multitude of currencies. These companies are also listed on more liquid markets and therefore trade more easily.
Is Local the only Lekker?
South Africa has many great companies led by excellent management teams that make good profits, but we acknowledge the ALSI is limited. There are only so many Banks or resource companies. Our technology sector is tiny, and our retailers mainly restricted to our country. If we take the Dollar / Rand equation out of the picture and compare only the performance - over the last five and 10 years - of international companies in their base currency to the performance of local companies, we see that we can achieve greater returns without the currency factor.
You may own Shoprite, but why not WallMart? Naspers has been an excellent listing on our Exchange and has given you global exposure but what about Amazon? You can own MTN but AT&T is bigger. Not everyone drinks our local brew - what about Heneiken? Since Sasol has had its ups and downs, why not consider Shell? Growthpoint is our largest Property REIT, but is small in comparison to Simon Property Group in the US.
The graph below shows the growth of some selected shares that you may consider similar in theme. The graph depicts the growth of these shares in their base currency. So the currency is taken out of the equation.

A broad spectrum of investment opportunities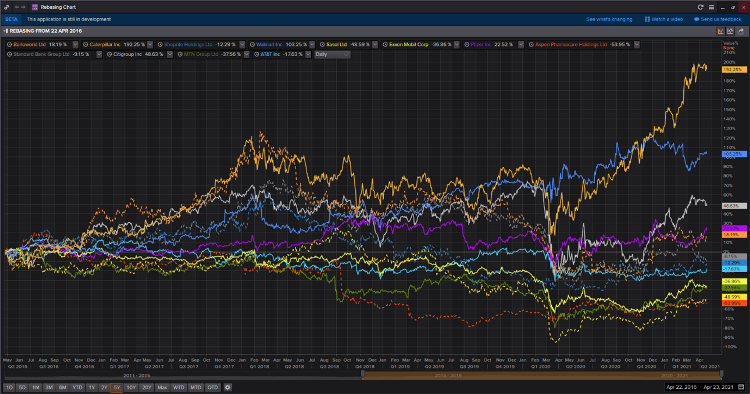 The rationale behind the graph is not to say that one company is better than the other, but rather to illustrate that there are other options available. It also highlights the fact that you can achieve a better nominal return without the influence of the currency.
In the above graph we have rebased a number of shares as a comparison over the past five years.
Barloworld 18.19% vs Caterpillar 192.25%
Shoprite -12.29% vs Walmart 103.25%
Pfizer 22.52% vs Aspen -53.95%
Standard Bank -9.15% vs Citigroup 48.63%.
If we look over 10 years, the picture becomes more significant as the influence of the depreciating Rand is felt. Shoprite, for example, is up 50% versus Walmart at 160%, but rebase this in Dollars and Shoprite falls to -30%.
Over the last 10 years Amazon has grown 1680% versus Naspers at 1234%. Rebase this in Dollars and Naspers only shows a 550% return.
What this data aims to illustrate is that there is a bigger shopping list when we look offshore. It is not to say that some of these locally listed shares will not perform better over the next five to 10 years or that Rand depreciation is a one-way bet.
Prioritise personal needs
As an investor, it is so valuable to look at your asset allocation with your financial advisor and make sure your allocations to the various asset classes suit your needs. Investing offshore and especially into equities does bring volatility into your portfolio.
If you require income, you have to consider our local Bond and Fixed interest rate market where our yields are higher than those found globally. Offshore Bond yields are very low and negative in some parts of the world.
There is no reason why we can't live in South Africa and enjoy the sunshine while our money travels the globe looking for opportunities.
Just like you can buy just about any product, you can access just about any investment globally. This can be facilitated by your financial advisor and structured to meet your needs.
Most administration platforms offer access to unit trust funds which give you a diversified portfolio offshore. They also offer direct share portfolios where you can have a bespoke portfolio of international shares. In addition, they offer index trackers and ETFs should you be cost conscious or want to track a particular index. The investment platforms and funds are also tax-efficient.
Ultimately, you are looking for global products that will give you growth globally and income streams from around the world that should translate into income that is hedged against inflation and the risk of the Rand weakening.
If you have visited busy cities like London and New York, you realise how much bigger the world is. There is an energy and a bustle, and you can almost feel the economy moving and the transfer of money from one industry to the next. You see an abundance of people and product. There is not much that they have that we can't get, but you realise that there is whole lot of extra opportunities and markets out there. As much as I like living in my sunny Eastern Cape world, it does not mean that my money does.
Chat to your financial advisor regarding offshore options and how to make your portfolio more global and your growth more meaningful.