2020 was the year of 'You're on mute!' work experiences and Googling 'What is 5G?' according to South Africa's top five trending questions. As work and school from home extended with each lockdown level, we searched for faster, cheaper data connectivity and technological advances to support the new remote work, schooling and entertainment environment.
South African telecommunications companies Vodacom, Telkom and MTN were faced with the need to modernise their infrastructure to support the accelerated growth in demand for at home connectivity. At the same time, they continued to grapple with regulatory pressures for mandatory data price decreases. In the context of a struggling economy and high unemployment rates, consumers may be unable to afford a premium price for the improved connectivity they so desire which could result in margin and cashflow pressures to the providers.
Telecommunication company share prices have experienced a steady rise over the past six months, although they continue to remain lower than their five-year highs. From an income perspective, companies such as Telkom are regarded as quality defensive stocks, where investors are well compensated for risks with high dividend yields. The below chart shows the impact the 2020 pandemic had on the dividend yields of these companies. Vodacom slightly reduced its dividend while Telkom significantly reduced its dividend. MTN did not declare a dividend at all.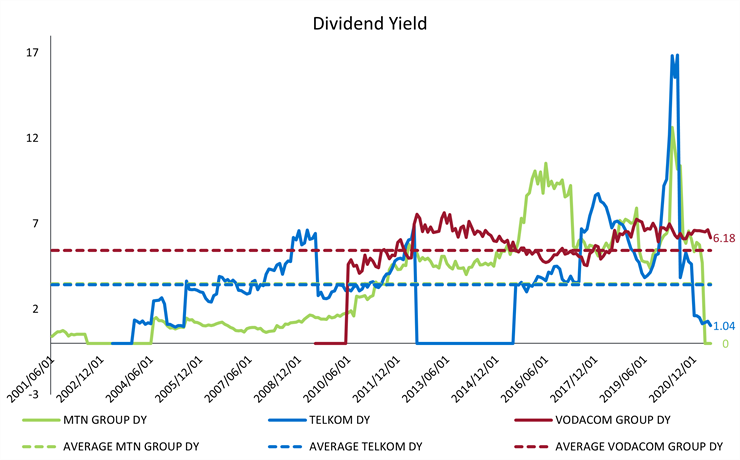 Source: Refinitiv DataStream
Although declines in fixed line and IT revenues were offset by mobile services revenue in 2020, Telkom's significantly reduced dividend is the result of a substantial fall in the interim period's earnings on which the dividend is based.
Last year the company announced a suspended dividend policy for the next three years based on the need to retain capital for spectrum auctions. This decision is being revisited in 2021 following the upturn in annual profits.
Due to the unprecedented impact of the pandemic, businesses were required to quickly adapt to increased network traffic, and demand changes such as those faced by Telkom. Moving forward, personalised and dynamic pricing models could be a way to tackle events in an opportunistic, profitable way that limits negative impacts on the income statement.
MTN's dividend choice was also a cashflow driven decision made on the back of positive annual results. The company's decision to use its cash to reduce leverage in its holding company rather than paying dividends was based on limitations arising from cash repatriation challenges in its Nigerian operations. The company has said resolving the complicated litigation, which must surely involve cash repatriations, is one of their objectives for this year. MTN predicts that dividend payments or share buybacks will resume in the 2021 financial year.
From a price to book (P/B) valuation perspective, all three telecommunications companies' current P/B values have fallen below their 20-year averages. This indicates that the stocks are undervalued in relation to the historic average, suggesting a potential opportunity.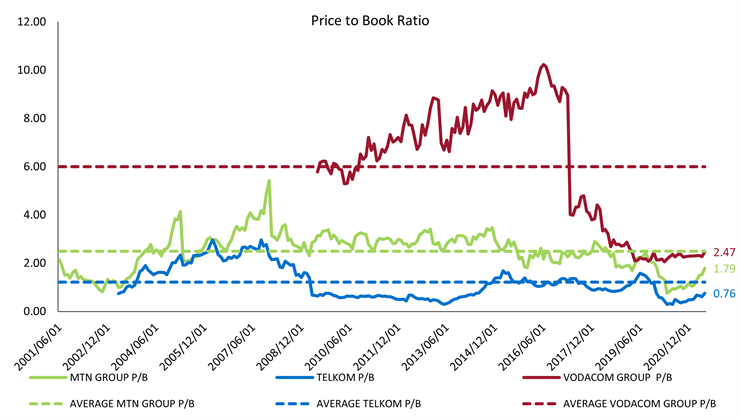 Source: Refinitiv DataStream

MTN's positive results, including the procurement of 29 million new customers, were well received by the market. It ended May with its share price up 8.5% compared to the previous month. The stock has been interpreted by analysts as a buy, noting the repatriation risks facing the company. Our market analysis views the telecommunications sector in a positive light with stock such as Vodacom and Telkom being treated as a hold.
Global trends in the telecommunication sector remain focused on increasing spectrum and cost optimization. The Biden administration has taken the pandemic as an opportunity to address longstanding infrastructure issues and table discussions on municipal fibre offerings.
Other trends in the industry focus on 5G developments, noting that the roll out of 5G is anticipated to be more capital intensive than that 4G. A joint focus approach to improve infrastructure to satisfy clients and increase digitisation to reduce costs is likely. This will breed innovation from the industry as they try to find a solution to provide lower costing, higher quality networks which may result in traditional telecommunication companies moving beyond their core business and aligning with adjacent industries to tap into new market segments such as the development of telehealth and ehealth services.

---
This article, "SA's telecoms stock pose value" was written exclusively for Finweek Magazine. It was published in the 9 July 2021 edition. You can access the original print coverage in English here, and in Afrikaans here

Make sure to subscribe to Finweek to ensure you don't miss out on insight articles like these.