Since my previous message, much has changed both locally and globally. I have been wondering if these changes are equally relevant or if some are more significant than others.
As I reflect on our country, I recognise that we don't shape up well when we see our economy as a percentage of the global economy: we represent less than 1%, in fact! This is a sobering thought when we consider how important the economy, politics, social dynamics and other high-profile aspects of South Africa feel to us.
Dearth and Demand
What can be noted from data I include in this article is that, as a Developing Economy rich in minerals and other resources, we benefit materially from significant global demand, typically created by growth in the Developed Markets. There is also a close correlation between these periods of growth and strength in the Rand – and likewise, a strengthening of other Emerging Market resource-based economies and currencies.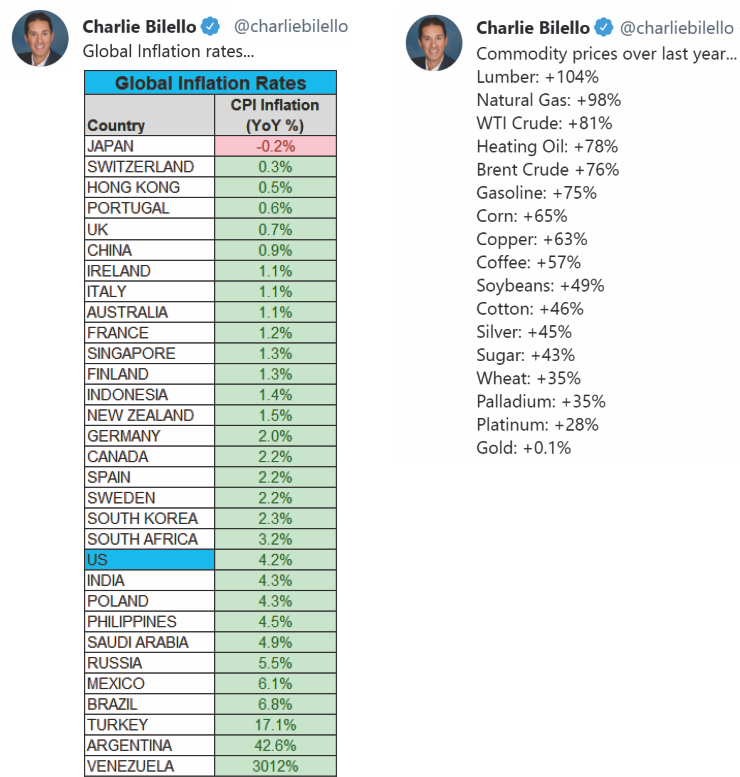 It is typical - in times of slower economic activity or austerity - that countries and companies cut purchases to the minimum, sometimes even below safe levels.
Then the economy recovers, or a sector faces a predicament in which there is a shortage of supplies, and a dramatic surge in demand often takes place. This so-called "boom or bust" mentality can be found with alarming regularity in even sophisticated industries and economies.
The Japanese auto industry became the focus of many MBA class studies as a result of this industry applying a revolutionary strategy called JIT or Just in Time. It recommended that a motor 'manufacturer' (for example, Toyota), change its approach by outsourcing the manufacture of parts to others, whose contractual responsibility it was to deliver JIT whatever Toyota needed. This worked perfectly but introduced the risk that, should an extreme event take place (such as Fukushima or Covid-19), massive disruption results and supply chains could be severely stretched.
Currently, as an example, we are aware of the substantial shortage of microchips.
Covid has exacerbated this scarcity of resources and products. Shipping both on the water (few ships sailing) and in the dock (harbours without staff due to Covid) has been compromised. Getting stuff has become a mission in itself! This is particularly pertinent to bulky items like coal, iron and steel, timber and copper. Note the escalation in the prices of commodities listed in the tweet cited here and remember that this is what South Africa produces.
Add these factors together and then add the wall of liquidity, government assistance and the sluggish rollout of vaccinations, and we find ourselves in this place of uncertainty. Nobody can call the likely timeline. As the USA distributes big Bucks and China commits to a massive infrastructure spend, with others following, what seems likely is that the demand for resources and commodities will extend for quite some time.
Resilience in Resources and the Rand
Our resource companies, who have enjoyed a remarkable recovery of late, will continue to benefit; there are also several significantly positive side-effects to growing demand for resources.
Let's consider a few:
SARS will be collecting through tax revenue, dividend taxes, VAT and personal tax revenues, not expected in recent estimates, in the context of improved employment conditions.
Other businesses allied to mining and farming in South Africa will enjoy a material uptick in demand for their services and products.
Secondary beneficiaries such as taxis, transport, tech, timber, engineering and countless others also benefit.
Finally, and of material importance, our bigger financial institutions, including banks, asset managers and life assurers are in much better shape.
As noted above, these more positive periods need to be enjoyed and recognised, as they rationalise, for most of us, the sense in long-term investments which deliver real growth over time. This positivity hasn't been obvious to most South Africans who have had a torrid time on the JSE and in property (both private and commercial), with scant alternatives as cash rates have been on a steady decline!
Equally important is that the JSE, having delivered well post the Covid-led meltdown, is still offering good value. South Africa is by no means a lush Utopia, but it does have a habit of surprising us with its resilience and capacity to repair. Certain political developments seem to be shaping up. If we are honest, we will acknowledge that most of us doubted that the political will existed for these developments to be followed through. It is still far too early to tell, but the winds of change are blowing. Should this become significantly positive, the attitude of key Ratings Agencies, and the commitment of local and importantly global investors can add to the positive backdrop.
Just before you think I'm not thinking clearly, there is always the other side of the coin to consider. Firstly, trends do end - sometimes without warning and viciously. My favourite is the Rand. Do we think diversifying remains a good idea? Sure! Diversifying both across markets and countries will always make sense. Do you take funds out now? Yes. Remember the Rand was over R19/1$ last year March! You can see this story reflected in the graph.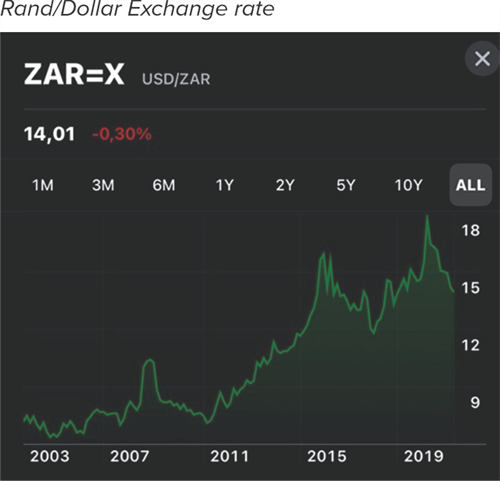 In conclusion, we at NFB wish you all a safe and secure time as we continue to negotiate these extraordinary times. Thank you for your custom, thank you for "staying the chase" and please contact us for any advice or assistance required. We are still able to lock in tax-efficient income where needed at levels far superior to call funds (after tax). Reach out to your advisor to discuss this opportunity should you be requiring more tax-efficient income in your portfolio.
---
| | |
| --- | --- |
| | This article was originally published in the Proficio, NFB's bimonthly financial update, edition June / July 2021. Download the complete NFB Proficio newsletter here |