Leading up to the 2010 FIFA World Cup, for example, the number of new JSE listed companies in the construction sector dominated with firms such as Aveng, Murray & Roberts and PPC featuring on the JSE Top 40 Index.

Unfortunately, this was followed by an unprecedented number of large contractors liquidating, filing for business rescue or delisting.

Over the past decade, the country's depressed economy combined with increased government debt and dampened investor confidence has led to low government and private sector infrastructure investments. However, with a renewed government focus on the sector, the investment case finally seems to be slowly turning around.

Between 2008 and 2018 the value of public listed construction companies fell by over 60% as a result of delisting or sale of companies to unlisted black empowered entities.

A slowdown in economic growth resulted in declining investment in public sector infrastructure growth which had a knock-on effect on construction businesses. In the past five years construction companies Group Five, Esor and Basil Read were placed under business rescue. Both Group Five and Esor subsequently delisted from the JSE in 2020, while the future of Basil Read remains uncertain.

More than 10% of the companies that have delisted from the JSE since 2018 hail from the construction and real estate development sector. A side effect of this is the loss of invaluable skilled professionals to emigration or alternative industries.

Investment funding in the sector has further added to the pain, contracting by 1.8% in the second quarter of 2020. Additionally, the sector is faced with numerous challenges which, amongst others, include skill shortages, anti-competitiveness and corruption. The ongoing challenge of "construction mafias" is compounded by the apparent lack of visible policing and has acted as a deterrent to investment.

A number of companies have responded to these challenges by diversifying into other more profitable segments of the market. Raubex, for example, has diversified away from road building into earthworks and infrastructure development. Afrimat has grown its focus on higher-margin industrial minerals while companies such as Aveng and Murray & Roberts have placed more focus on their international operations.

The sector was underperforming even prior to the pandemic. In 2018 and 2019 its performance declined by 1.2% and 3.3% respectively. Its distress was intensified in 2020 when operations from construction sites were forced to halt during the hard lockdown in the second quarter. As a result its performance plunged by 19.8% in the first three-quarters of 2020 marking it as the worst-performing sector contributing to South Africa's gross domestic product (GDP).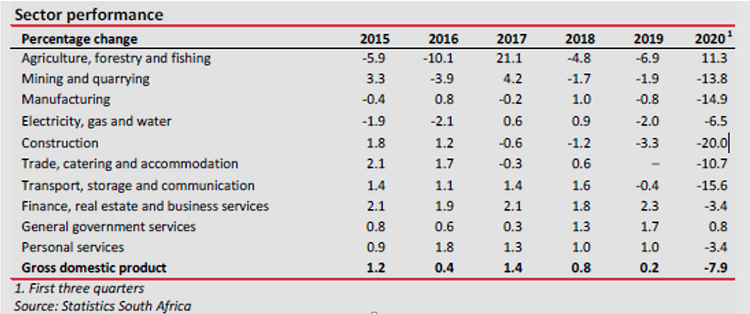 The tides, however, may be changing. Second quarter year-on-year data for 2021 reflected a positive 17.2% improvement, with construction firms highlighting increased secured order books as market conditions improve with less restrictive lockdown levels.
The difficulties faced during the pandemic have resulted in a mixed bag of results as far as the top construction players listed on the JSE are concerned.

Not surprisingly, WBO reported a decline in revenue due to unfavourable economic conditions, in particular the pandemic-related lockdowns which limited on-site work. This contrasted with Raubex which experienced positive revenues. Both companies recorded increased operations in the latter half of 2020, due to increased tender activity and the awarding of substantial contracts. Proving the value of its long-term diversification strategy, Afrimat also reported positive results.

Some of the uptick in activity can be attributed to SANRAL who have resumed operations on certain major projects. The upswing in commodity prices is favouring firms with major roads and earthworks divisions, further benefitted those with exposure to the growing mining sector activity across Africa and Australia.

Improved operations experienced by the construction sector contributed towards its improved employment data, marking construction as the largest employer for the quarter. The sector offers a disproportional contribution towards the economy when comparing its nominal share of GDP (2.5%) and employment (8.2%), the sheer value of people employed in the sector ties in well with future infrastructure investment plans, as creating more employment opportunities whilst positively impact GDP is of great importance to South Africa's developing economy.

Undoubtedly, infrastructure development is key to achieving sustainable economic growth. In a bid to boost the economy from the adverse effects of the Covid-19, the government in its 2021 Budget Speech, announced plans to increase infrastructure. Given its target of R1 trillion over the next four years and the constrained fiscal environment, the government has partnered with the private sector, multilateral development banks, and development finance institutions for crowdfunding. The blended finance is managed by Infrastructure South Africa with the aim of sharing risks between the public and private sector, offering improved innovation, scalability, skills, and expertise. Other entities aligned to drive the roll-out include Operation Vulindlela and the National Treasury's economic plan.

Critical sectors focused on include energy, water, transport, and telecommunications with energy and transport likely to account for approximately 70% of the budget. With the government's commitment to growing the country's reliance on renewable energy, companies such as WBO, Raubex, and Murray & Roberts are expected to benefit from the opportunity. Included in the conditions to ensure that the National Infrastructure 2050 vision is a success is a much-needed commitment to building on South African civil construction and supplier firms. Thus, increasing competitive operations for local companies.

Furthermore, the sector will benefit from the required rebuilding and repair work of buildings and infrastructure damage experienced in July during the social unrest and lootings in KZN and Gauteng. Although these riots pose a risk to international investment funding through their negative impact on investor sentiment.

With less debate and more action around the economic reform, performance from the construction sector is expected to be bolstered. As public infrastructure gains momentum in countries such as South Africa, Australia, and the UK, regions in which top SA listed firms operate, the companies have the opportunity to benefit. The industry consensus from analysts on the construction sector is a BUY, especially for companies reflecting a strong order book.
---
This article, "infrastructure development back on SA's economic priority list " was written exclusively for Finweek Magazine. It was published in the Finweek edition on page 26. You can access the original print coverage in English here.

Make sure to subscribe to Finweek to ensure you don't miss out on insight articles like these.